C# .NET Training, WPF Training
Learn C#, WPF, .NET, Delphi, SQL - On-site or Online Training
We provide:
Customized, hands-on C# .NET Training, WPF Training, .NET 3.5 Training, Delphi Training and SQL Training
LIVE, distance training. You can stay home and learn from a live professional trainer.
ON-SITE Training
ONLINE Training
Custom or standard curriculum. You can choose the topics you want to learn, the pace and the material!
Custom scheduling (days, evenings or weekends). We'll work with your schedule and availability.
Beginner through advanced training
One-on-one training
You will be able to interact, ask questions, and participate fully in our hands-on, live and personalized training. It is like having your own personal tutor.
Online Training
Most of our training is conducted online via web and audio conferencing. We also fully support VOIP meetings, so you won't have any long-distance phone charges.
We can record all our training sessions and make them available for download. You will be able to use the recordings for reference or to brush up on the training.
Your costs are much lower, too. You don't have to pay for flights, hotels, meals, and miscellaneous expenses associated with travel. You can learn from the comfort of your home or office.
For our International Students, we can offer customized scheduling to accommodate any time-zone differences.
You have the option and flexibility to set your own schedule and curriculum!
On-site Training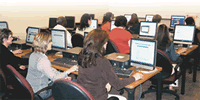 If you have a number of developers and you prefer that we come to you, we offer targeted on-site training that can be specifically tailored to your needs.
We can use our own standard curriculum or get your input on the topics you need covered and customize the training accordingly. We can work with your own projects and address immediate questions you may have.
Benefits of our training
ONE YEAR OF ONGOING SUPPORT. You will receive one full year of support when you sign up for our classes. The support is extended for the topics studied in the classes.
Learn from the comfort of your own home or office. You do not have to travel anywhere, be away from family, or worry about the added expenses of airfare, hotels, meals and incidentals.
ON-SITE training is available. If you prefer on-site training, we can come to you.
Customize your learning experience.
Learn by doing. We use real examples to demonstrate the concepts.
Receive personal attention. You will be able to interact, ask questions and receive immediate answers.
Learn without any prior programming experience. We will teach you the basics step-by-step as you move along in your training.
Choose your own class. If you are already programming, but need additional skills, you can choose a more advanced class or request a customized training.
Request a specific date and time. We have the means to offer you training on demand. You do not have to wait weeks or months before you can take a programming class that you need right now.
Choose weekday, weekend or evening classes. We recognize the need for flexbile scheduling, and have gone the extra mile to make that available to you.
Questions?
Give us a call at +1 678-921-0644, or use the contact page to submit an inquiry. C# .NET Training, WPF Training
Questions?
Give us a call at +1 678-921-0644, or use the contact page to submit an inquiry.